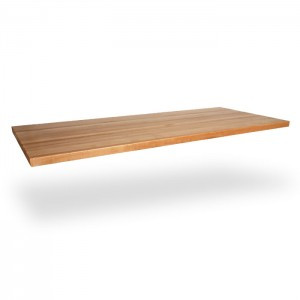 Prep Table Tops
Breathe new life into the back-of-the-house by switching out a worn table top with a Wood Welded® butcher block table top. Named for its versatility, the Versatable Table Top fits most existing bases, and works for prep, serving and storage. Available ready-to-ship in a variety of lengths and widths. Custom configurations also available.
Standard Configuration
Custom Configuration
Width/Depth: 24", 30", 36", 42"
Thickness: 1 1/2″, 1 3/4", 2 1/4", 3"
Wood Species: Black Walnut, EcoLyptus, American Cherry, Red Oak, Teak, White Ash
Lamination: Double dovetail end-grain
Finishes: Durakryl 102™, Rubbed Oil, Unfinished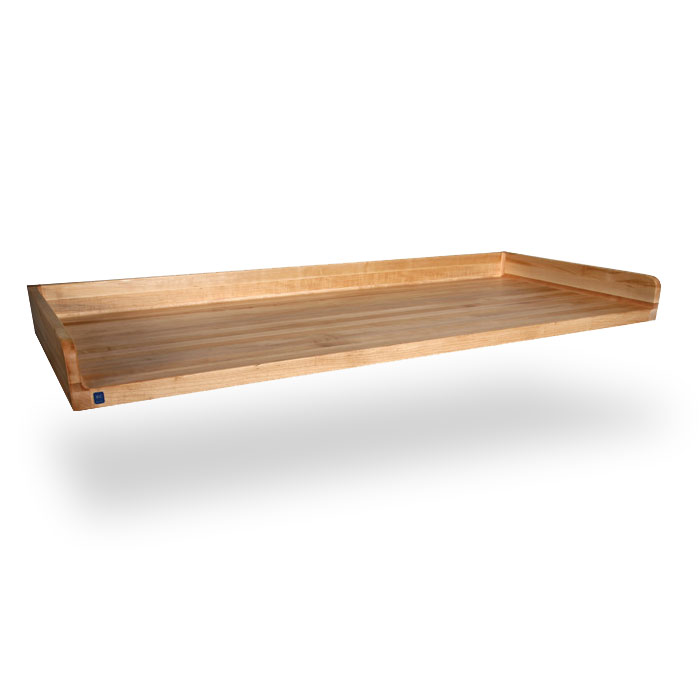 Cove Edge Baker's Table Top
Have a trusty table base in your bakery or commercial kitchen that needs a new top? Replace it with a Wood Welded® Cove Edge Baker's Table Top. Long preferred as the prep surface of bakeries, pizzerias, meat markets and other commercial foodservice operations, butcher block is strong to stand-up the the demands of a busy kitchen and is certified by the National Sanitation Foundation™. This table top features one-piece cove edge construction with a 4″ riser on three-sides. Offered in a variety of ready-to-ship lengths and widths, there is a configuration to fit virtually any table base.
Standard Configuration
Info: Cove-edge riser: 4″ National Sanitation Foundation (NSF®) Certified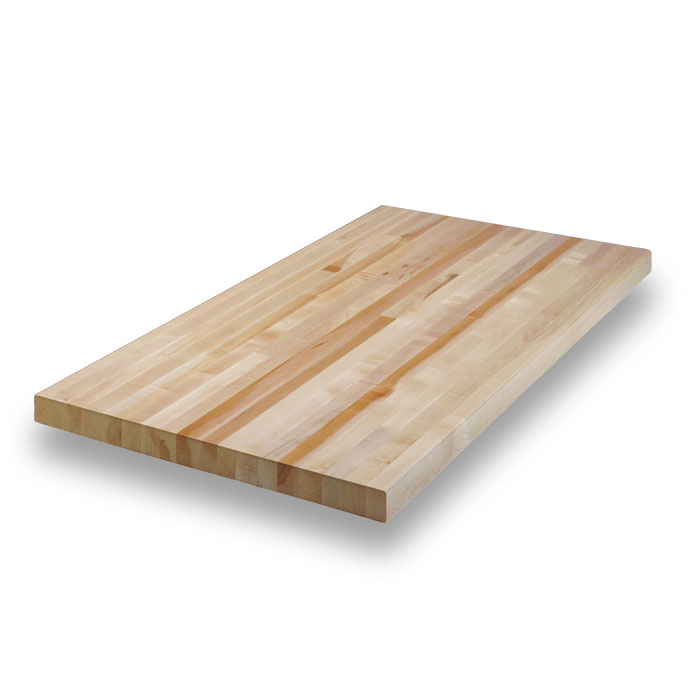 3″ Thick Tops
Heavy-duty, hardwearing and favored for their ability to be easily resurfaced for a lifetime of use, Wood Welded® Butcher Block Workbench Tops are found in high-output factories, shops, and garages the world over. Like all Wood Welded Butcher Block products, Industrial Workbench Tops are crafted from laminated edge-grain northern hard rock maple and factory-finished with DURAKRYL 102®, a tough non-toxic coating that repels alcohol, bleach, paint thinner and most other solvents. Available in standard, ready-to-ship sizes, these are the tops for your shop. Specify the original Wood Welded butcher block for the ultimate in durability.
Standard Configuration
| Dimensions | Sku |
| --- | --- |
| 48" x 24" | AGA04824 |
| 48" x 30" | AGA04830 |
| 48" x 36" | AGA04836 |
| 60" x 24" | AGA06024 |
| 60" x 30" | AGA06030 |
| 60" x 36" | AGA06036 |
| 72" x 24" | AGA07224 |
| 72" x 30" | AGA07230 |
| 72" x 36" | AGA07236 |
| 96" x 24" | AGA09624 |
| 96" x 30" | AGA09630 |
| 96" x 36" | AGA09636 |